The installation is looking at the past in three interlocked flashbacks bringing to the fore the question of changing subjective values in the act of looking at art and the art-making process. The way we look and the things we are looking at today have changed markedly in the last thirty years. What we call time has changed even more. The installation examines how time as movement and time as duration are interconnected and historically determined.
Can we still think that stillness can be used to show movement?
Can we still represent the sense of theatrical time of another generation using a stage set and a heightened presence of the performers' bodies with sound amplification?
Can we still believe in the utopist idea of the permanence of art as endless renewal as we see the light constantly changing on the shimmering reflections on water?
Movement is as relentless and unrepeatable as the linear unfolding time of film.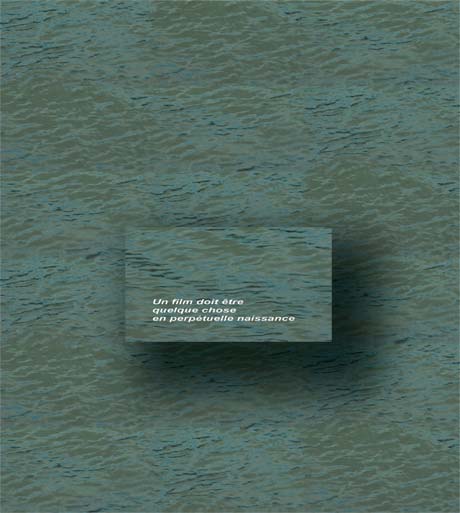 The print on silk was mounted on a round stick of wood painted white mounted slightly away from the wall. The stiff backing needed for the laser printing of the silk had been removed. The printed silk was evoking a lightweight curtain about two inches from the wall. The silk material was floating somewhat and breathing with the draft that occurred in the gallery because of air circulation. It is that quality in the movement, which for me made the piece that uses a quote from the French filmmaker Robert Bresson who advocates for a film "to be in a state of perpetual birth".

Description of the elements from left to right:

Trisha Brown Four Photographs
Left to right and top to bottom:
Roof Piece Photograph © Babette Mangolte 1973
Choreography by Trisha Brown over Soho roofs between Houston Street & Canal Street (New York City)
Glacial Decoy Photograph © Babette Mangolte 1979
Choreography by Trisha Brown, Set by Robert Rauschenberg (Public Theater, New York City)
Accumulation Photograph © Babette Mangolte 1973
Choreography by Trisha Brown (Sonnabend Gallery, New York City)
Water Motor Photograph © Babette Mangolte 1978
Choreography by Trisha Brown (Rehearsal studio, New York City)

Robert Morris Four Pieces by Morris
Film by Babette Mangolte © Babette Mangolte 1993 (90 minutes)
The film is a reconstruction of seminal performances from the Sixties by Robert Morris shot in the Nineties (New York City).

Robert Bresson Print for Bresson
Image composed from digital video of the water of the Seine River in Paris, Citation by Robert Bresson published in Arts et Spectacles (May 7,1959)
« Le film doit être quelque chose en perpétuelle naissance »
"A film should be in a state of perpetual birth"
Printed on silk © Babette Mangolte 2002

Thanks to Hector Bracho, Fang Chen, Megan O'Connor and Kate Hare for technical assistance in the making and the mounting of the print.