"Yvonne Rainer: Testimony to Improvisation 1972-5" was installed at the gallery Scorcha Dallas in Glasgow, UK in October 2010.
The selection of photographs from Yvonne Rainer's work between 1972 and 1975 was highlighting the improvisational aspect of Rainer's work in a period of transition when she moves from performances to filmmaking. A short text explains the reason behind the selection of the images that were included
Gallery photographs in Main gallery and Gallery 2
Main Gallery Slide Show:
The second room showed a film loop of my first feature film "What Maisie Knew" where Yvonne Rainer appeared as a performer. In the same gallery were shown two portraits of Yvonne Rainer one a snapshot, the other a more formal portrait.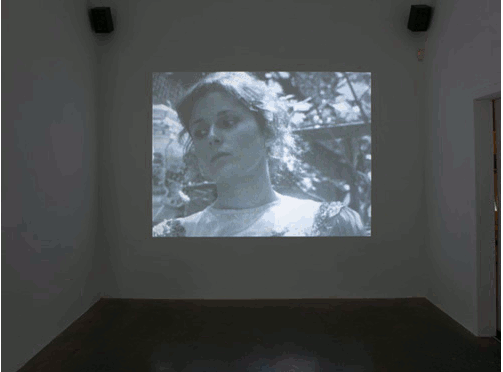 Photo Copyright Installation views by Scorcha Dallas gallery
The following text was given to every visitor.
"Yvonne Rainer: Testimony to Improvisation 1972-5"
The show attempts to testify about Yvonne Rainer's process of transforming rehearsal into performance into staged events into filmmaking. Her practice was situated at a time when improvisation was a working tool in use everywhere in the theater and art world in downtown New York from the 1960s to the mid 1970s. It was also a time when Yvonne's dance work was very much process oriented.
The Grand Union was formed in 1970 with dancers who worked with Yvonne Rainer on her piece Continuous Project-Altered daily and shared the long history of The Judson Dance Theater. The group explored improvisation to find disjunctions that could not be reasoned, mimicking chance operations devised by John Cage. The process of improvising in front of the audience liberated the relation between time, duration and movement. Something unexpected and unplanned did happen. The "present" was now erupting on the stage and the spectator was part of it, not just an outsider to it. The spectator - by being there when the unforeseen happened - created the conditions for this slippage of power between audience and performers.
Yvonne Rainer's work in this period is about constant transformation of movements and phrases oscillating between rehearsals and play as in Walk She Said. At times she reworked a solo like Trio A and changed it into a duet for "This is a story about a woman who…"
Props had changing functions from one performance to the next like the "box" in Performance and Lives of Performers. Yvonne staged people looking at what other people were doing on stage while avoiding any direct gaze at the audience as we see in Trio A.
The narrative voices often referred to what you could see or what you had heard. Perception became operational and improvisation an ingredient added to undo the precision of exacting scripted parts. Some sections were loose in their rhythms when others were staged very tightly. The balancing act between tight and loose was fascinating and is one of the charms of the film Lives of Performers.
The photographs I shot during this transitional period in Yvonne Rainer's creative life were made to train myself. I wanted to acquire the ability to improvise in order to shoot her upcoming film Lives of Performers, which Yvonne Rainer was preparing and completed between January and May 1972 and for which I did the cinematography. Annette Michelson had recommended me to her in fall 1971 but you cannot shoot something you do not comprehend. I therefore had to learn. I owe to this fascinating moment the discovery of both improvisation and dance that were to nourish my own creative life for a long time to come. What I learned then I reflected in my first film What Maisie Knew in which Yvonne Rainer appears as a performer.
Babette Mangolte September 2010