Reading of Yvonne Rainer's "this is the story of a woman who…"

Installation of script pages, black-and-white-photographs, film elements, and text by Babette Mangolte © 2013
Performance Script by Yvonne Rainer © 1973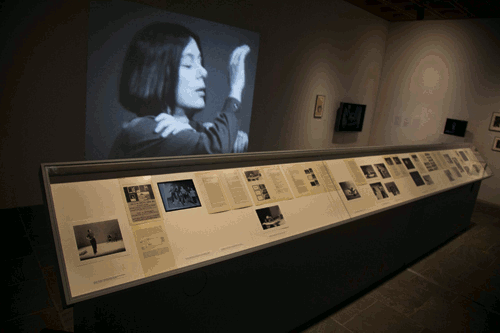 The archival photographs, script pages, and notes displayed in this vitrine, along with the film footage projected or shown on three small monitors inside the vitrine, are a re-presentation of Yvonne Rainer's seminal 1973 performance piece this is the story of a woman who... The original performance featured a man and woman played by Rainer and John Erdman whose inner thoughts about their relationship (visible as text slide projections) contrast with their physical actions while a narrator played by Shirley Soffer appears on-stage and analyzes the ambivalence the man and woman feel for one another. In her script for the performance, Rainer captures the difficulties of genuine communication between two lovers. Filmmaker Babette Mangolte, who shot the performance photographs and films during rehearsal in 1973, selected the script pages, designed the display and added in printed subtitles her own commentary about the original narrative, bringing a 2013 sensibility to material from 1973.
This installation was conceived for a performance show "Rituals of Rented Island", curated by Jay Sanders at the Whitney Museum.