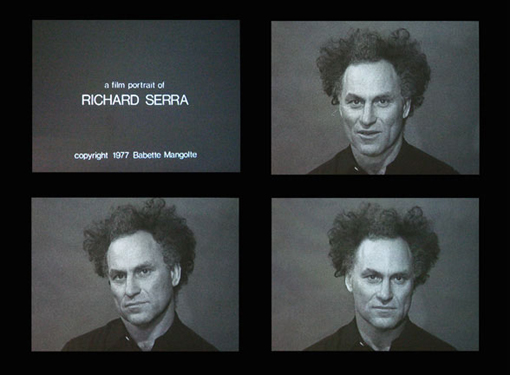 Entering the gallery space one sees a photo of the bust of a woman from the back in a turtle neck against a coastal sky. Her posture is static and her presence in the picture frame is reminiscent of the mute giants in Renee Magritte's paintings. She has a bob styled hair cut.
There is a story to tell about this intriguing picture and its mysterious realism. Babette Mangolte was commissioned by the legendary concept art magazine Avalanche to take a portrait of the famous Minimal dance performer Yvonne Rainer for the cover of the magazine in 1972. Mangolte, at the time, was a photographer and cinematographer of New York's downtown scene in dance, performance and experimental theater; she shared many ideas - intellectual and aesthetic - with Rainer. Not only did she photograph Rainer's choreography "Lives of Performers" and did act as director of photography of the film that Rainer made of this piece, - Rainer and other artists she cooperated with, performed in Mangolte's first feature film "What Maisie Knew" (shot in 1973-1974). This photo of Yvonne Rainer's back is a unique fusion between Mangolte's own approach to experimental montage and Rainer's style of performance. Rainer often turned her back to the audience or shattered her face with grotesque gestures that obscure conventional identity representation. Oddly unfaithful to its editorial charter, Avalanche rejected Mangolte's portrait of Rainer in favor of a fairly conventional frontal portrait of the dancer.
SPACES TO SEE, STORIES TO TELL is Babette Mangolte's first solo show in the US. Her work is widely known within the context of institutional shows on New York performance art history of the 1970s and from her own film making. In the 1960s she studied cinematography and film editing in Paris and came to New York in 1970. She soon started to take part in the Soho art scene, working closely with Yvonne Rainer, Trisha Brown, Robert Wilson, Richard Foreman, Robert Whitman and others, creating one of the most important bodies of work on performance photography and film.
"What Maisie Knew" (Collection Centre Pompidou) was followed by the experimental short film "(NOW)" and Mangolte's second feature "THE CAMERA: JE, LA CAMERA: I" (Collection of MOMA, NY), which will be screened at BROADWAY 1602 the day after the opening. In 1978 she directed "Watermotor" based on Trisha Brown's groundbreaking dance solo. It remains an influential film on dance performance of the 1970s. Her most recent film "Seven Easy Pieces by Marina Abramovic" premiered at the Berlin Film festival in February 2007. SPACES TO SEE, STORIES TO TELL is the first show to fully focus on Babette Mangolte's own aesthetic trajectories. We see formative aspects of the way of life she shared with artists she cooperated with. There are photographs of her loft in Tribecca where she still lives - a typical space, sparsly furnished, almost empty, an inspiring space so characteristic of the time. These 1970s loft spaces appeared as film settings for performances that could be staged at any times. Those bare spaces reflected the motto of the times that art is life and vice versa.
Film stills from "What Maisie knew" are all investigation of spaces and how light invades space. A door ajar let you peak at Yvonne Rainer and Phillip Glass in a scene of conceptualized intimacy. Some ritual goes on on top of a West Side roof. Fog is filling a loft with the sun pouring in. Exploring photography in her film "THE CAMERA: JE, LA CAMERA: I", Mangolte concentrated on the details of facial expressions in portrait photography
and analyzed the schizophrenic relationship between Mangolte's aleatory camera in photography and her conceptual work in film. In the course of this examination of portraiture, Mangolte filmed a session with Richard Serra not included in the final edit of the film in 1977. This footage titled "Richard Serra, Film Portrait", will be shown for the first time in the gallery. Serra, now a monument of neo-avant-garde history, poses in front of the camera with the grandeur of a trained actor. He keeps control over his image up to the point where he suddenly abandons the pose in an unexpected way.
As part of the preparation in 1977 for "THE CAMERA: JE, LA CAMERA: I", Babette Mangolte took many photographs of Tribeca building facades. In 1978 she manipulated the images into handmade photomontages by flipping and twisting these architectural details of facades to form what she called "Composite Buildings". This project generated a body of work of about 90 photomontages in a renewed constructivist style, portraying the city in its imposing as well as run down and dark aspects.
Anke Kempkes
The show was reviewed by Brian Sholis in Artforum, October 2007